ELBE Lounge
ELBE Lounge, located on the ground floor, can be accessed directly from the magnificent CCH entrance hall. The lounge is very flexible, can be subdivided into two individual rooms, and is separated from the ELBE Deck, an open seating area, by a glass wall.
An ideal VIP lounge or an exquisite place for conversations
Key Facts
Seating:
Room 'ELBE Lounge 023': Conference table
Room 'ELBE Lounge 024': Lounge suite
Ceiling height:
3.00 m
Flooring:
Carpeting
Divisibility details:
ELBE Lounge consists of Rooms 023, 024 and 025 and has its own pantry and bathroom. Room 025 may be used for storage or other purposes (refer to floorplan).

Rooms 023 and 024 can be joined to form a single room, or divided into two spaces using a mobile separating wall (refer to floorplan).
Daylight details:
When partitioned off, Room 023, which features a conference table, receives indirect daylight. The two other rooms have no daylight (refer to floorplan).
Cloakroom:
Dedicated cloakroom
Other Services
Technical equipment:
86" touch screen with a rolling base and a set-top box**

All information is subject to change without notice.
* Depending on specific usage.
** Additional use of audio, video and other technical equipment not included in hall rental fee. We will gladly put together an individual proposal.
Last update: July 6, 2021
ELBE Lounge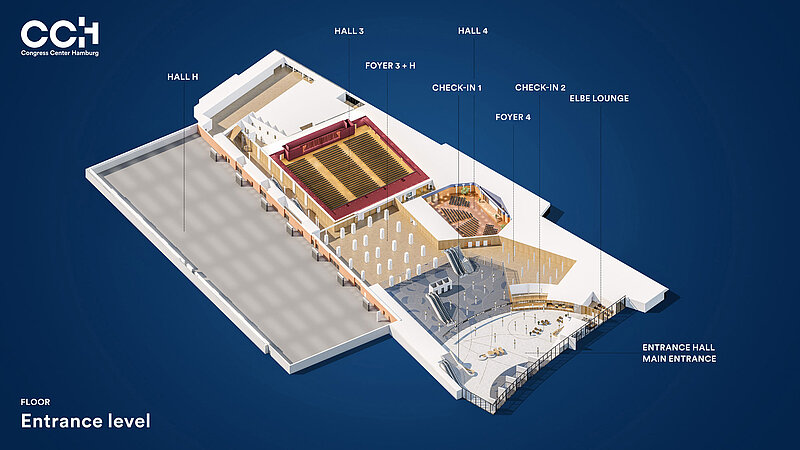 Zoom View
Building Section

East

Floor

Ground floor

Gross area (m²)

94

Clear height (m)

3.00

Divisible

Yes

Daylight

Yes

Exhibitions

No
---
Back to overview
Need help with your event planning?
We are here to support you and will always try to find the perfect solution for you!