Check-In 2
This space provides a beautiful ambience for you to greet your guests! Our registration counter is located in the light-flooded CCH entrance hall. Check-in 2 comprises a long registration counter and two back offices. The counter can be subdivided into two segments using mobile partitions, and used for two different events at the same time. The mobile partitions allow either segment or the entire counter to be locked securely.
Key Facts
Seating:
At counter: Counter-type chairs for up to 12 people
Back office 021: Tables and chairs for up to 6 people
Back office 022: Tables and chairs for up to 6 people
Ceiling height:
Counter: 3.10 m
Back offices: 3.10 m
Flooring:
Counter: Natural stone floor
Back offices: carpeting
Divisibility details:
Check-in 2 features a long registration counter and two back offices. The two back offices may be connected using a double-wing door. A mobile partition is available to subdivide the counter and separate the two back offices, or to open only one portion for use.
Barrier-free access:
The counter connected to Back Office 021 features a barrier-free outer section for mobility-impaired individuals such as wheelchair users. It is accessible from both, the visitor and the staff side (refer to floorplan).

All information is subject to change without notice.
* Depending on specific usage.
** Use of audio, video and other technical equipment not included in hall rental fee. We will gladly put together an individual proposal.
Last update: July 6, 2021
Check-In 2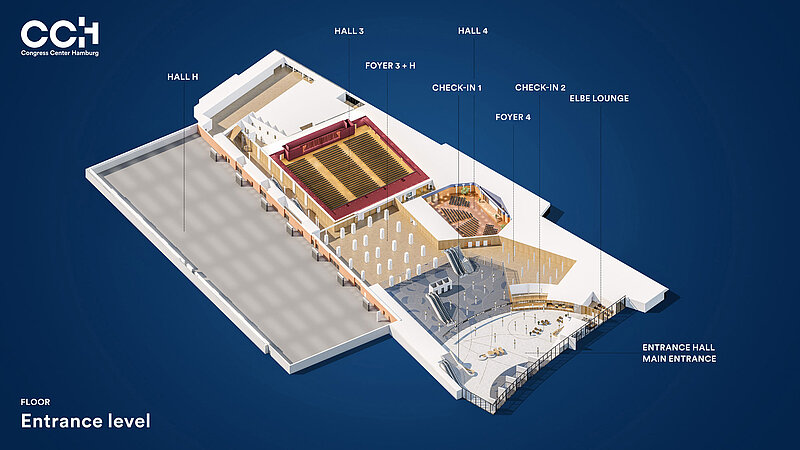 Zoom View
Building Section

East

Floor

Ground floor

Gross area (m²)

103

Clear height (m)

3.10

Divisible

Yes

Daylight

Yes

Exhibitions

No
---
Back to overview
Need help with your event planning?
We are here to support you and will always try to find the perfect solution for you!