Check-In 1
This space provides a beautiful ambience for you to greet your guests! Our registration counter is located in the light-flooded CCH entrance hall. It is the first point of contact for participants of conventions and other events. Its long counter gives you plenty of space to welcome your guests.
Key Facts
Seating:
Check-in counter: Counter-type chairs for up to 12 people
Back office: Mobile seating for up to 4 people
Ceiling height:
Counter: 2.40 m up to 25 m
Back office: 2.45 m
Flooring:
Counter: Natural stone floor
Back office: carpeting
Daylight details:
Check-in counter receives daylight. Back office has no daylight.
Barrier-free access:
The counter features a special section with a reduced counter height for mobility-impaired individuals such as wheelchair users.
Cloakroom:
Dedicated cloakroom

All information is subject to change without notice.
* Depending on specific usage.
** Use of audio, video and other technical equipment not included in hall rental fee. We will gladly put together an individual proposal.
Last update: July 6, 2021
Check-In 1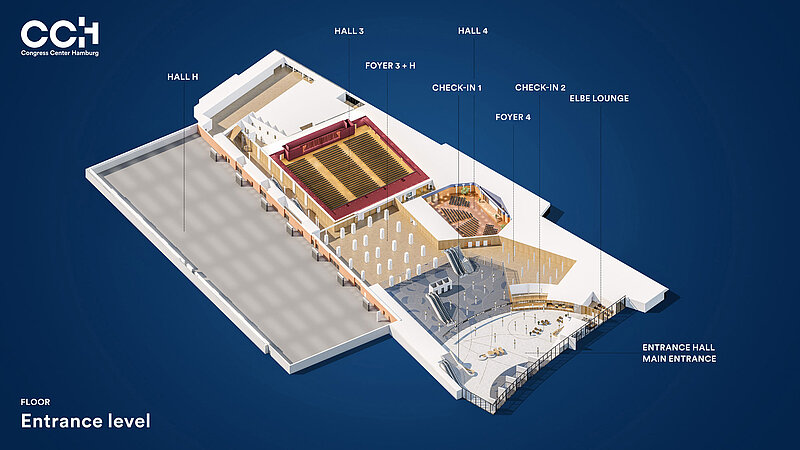 Zoom View
Building Section

East

Floor

Ground floor

Gross area (m²)

109

Clear height (m)

2.40

Divisible

No

Daylight

Yes

Exhibitions

No
---
Back to overview
Need help with your event planning?
We are here to support you and will always try to find the perfect solution for you!